Announcements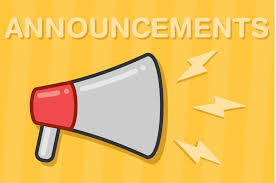 Dear Parents,
   Please read the following announcements carefully:
Announcement 1:
 We would like to invite you to the parents' orientation on Saturday 15/7/2017 for Grades (6,7,8,9,10) to discuss:
1- Pre-Sat preparation course (Grades: 6,7,8,9).
2- Sat course for Grade 10 throughout the academic year.
* The meeting will be held from 10:00 am to 11:00 am.
Announcement 2:
According to the latest increase for Fuel, we would like to inform you that prices for buses are under careful study. 
We will notify you with the final bus fees as soon as possible. 
Thanks for your cooperation,
The School Administration